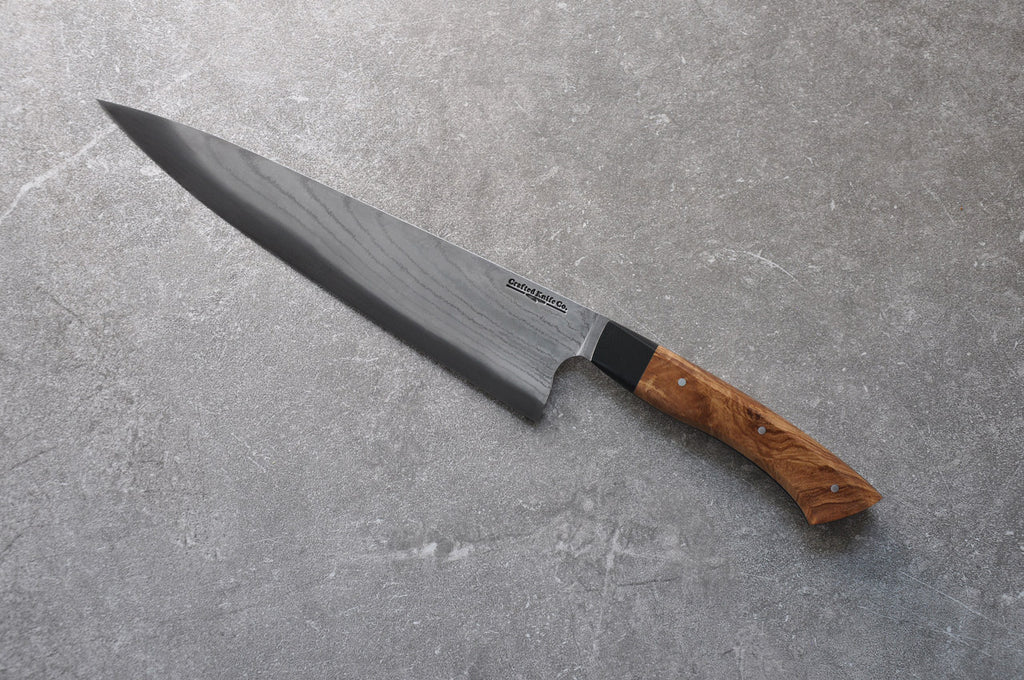 £345.00
£0.00
9 Inch (232mm) VToku2 Chefs Knife
This handmade 9 inch chef's knife is crafted with VToku2 steel. It has high carbon steel at the core and is clad with approximately 15 layers non-stainless steel with a nickel layer. VToku 2 is hard wearing and takes a brilliantly sharp edge. It takes a little time to sharpen due to the higher tungsten content of the steel but will keep its edge longer than a lot of other steels.
It's been heat treated to achieve a hardness of approximately 64 rockwell. This is much harder than typical (factory produced) knives. This means that the knife will hold a sharp edge for longer. However it should not be used on stone or glass chopping boards and is not intended to tackle bone with. It's also ground really thin with a gentle convex grind and a distal taper which improves the ease of cutting and makes it quite light in the hand, even for a 9 inch knife.

The handle is made from ash burl that's been stabilised with resin. The liner and bolster are made from black g10 which is a highly durable resin & fibreglass material. The handle is held together with super strong resin and copper pins. 

The blade is approximately 23 cm (~9 Inches) long and the handle length is approximately 12.7 cm (~5 inches). The knife has good knuckle clearance, even for big hands. It's really nicely balanced and is super comfy in both small and large hands.